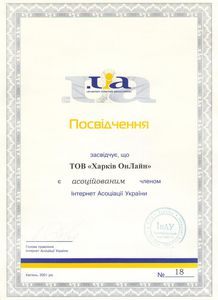 "Kharkiv Online" was founded in July 1997 in the form of an open joint stock company. Among the shareholders of JSC "Kharkiv Online" there are Ukrainian and foreign enterprises, as well as the employees of the company whose work shaped it and contributes to its development.
The main business of JSC "Kharkiv Online" is to develop and maintain the northeastern segment of the Ukrainian network for scientific and educational institutions (URAN), to provide Internet, to train and retrain staff in the field of information technology, and also software development and information content.
Since September 1997 the company has been providing the Internet and today is one of the leading providers in the region. JSC "Kharkiv Online" specializes in connecting corporate customers to the net for the needs of small businesses and for home use with further technical support and complete set of information services.
Keeping in mind that today the Internet is not just an information system but a powerful business management tool, we do our best to ensure high-quality access to the net and give our users integrated solutions based on Internet technology which allows to change the culture of making business in real time.
Thank to high capacity channels, qualified staff and modern equipment we provide service of high quality to the customers of JSC "Kharkiv Online".
In 1998 JSC "Kharkiv Online" opened the Educational Center for training and retraining of highly skilled experts in the field of new information technologies. Especially popular are the author's courses: "Programming in C and C ++", "UNIX Systems Administration", "Computer networks", "Repair and Maintenance of PC" and many more. There are also courses for PC and Internet beginners. The Educational Center is a member of several international and national programs in the field of education. Up to date more than three thousand people have been trained or re-trained in it.